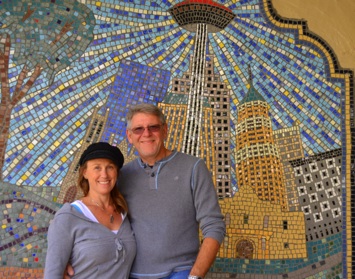 Steve Wood
About 18 years ago, Steve decided that he needed to do more exercise, so he pulled out his trusty old bike and started to ride.  He immediately discovered the painful truth – he wasn't built for a standard bicycle seat.  Rather than feeling invigorated, a ride left him with many sore body parts, from neck to nether regions.  He started researching options and discovered recumbent bicycles and tricycles.  What a revelation!  A comfortable seat offering an easy view of the surroundings, and with a trike, no concerns about falling.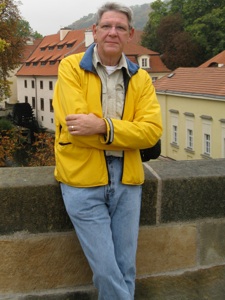 In 2002, he bought a tandem recumbent tricycle that allowed disassembly for air transport, and began touring western Europe.  He would pick a region and spend a couple of weeks riding a few hundred miles and explore the nooks and crannies.  Over the years, he's toured in France, Holland, Germany, Switzerland, Austria, and the Czech Republic.  Here's a link to some travel stories.

He's always had house guests, and in 2009, was introduced to Couchsurfing, which connects travelers to local hosts.  To date, he's hosted over 100 people from around the world, and even surfed a couple of couches. He began to use his trikes to show visitors around San Antonio, and after getting rave reviews, decided that there might be a way to combine his love of cycling with an opportunity. In 2010, Steve took classes to become certified as a Professional Tour Guide, bought some bikes, and San Antonio Bike Tours was born. Today, Steve continues to enjoy introducing guests from around the world to San Antonio.  He currently serves as President of the Professional Tour Guide Association of San Antonio.
I do not write these often. My husband and I try and do a bike tour of every city we visit. This one was by far the best we have had. First of all, the bikes were wonderfully comfortable. We had never ridden one before and are very impressed with them. Thanks to Steve's incredible narration of the history of San Antonio and his passion for the repurposing of the structures and neighborhoods, we now have a new appreciation of San Antonio. Suzanne's expert navigation helped to keep us safe at all times. We covered a lot of territory in 4 hours with the Upper River Walk, Downtown San Antonio and the King William District. Do not hesitate to do this tour!

Edwina B, Boston, MA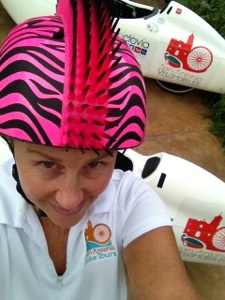 Suzanne Teshera
In 2012, Suzanne Teshera joined the SABT team as Safety Officer and Marketing Director and to develop our Adaptive Trikes division.  During tours, Suzanne serves as "sweep" rider – watching for traffic, assisting tour participants, and taking great photos.  On the Adaptive Trikes side, she uses her healthcare background to work one-on-one with our clients to find solutions that will enable them to enjoy cycling again.
Our goal is to operate in a low-impact fashion – except in exceptional circumstances, we transport our bikes and ancillary gear on a trailer pulled by a tricycle.  Though we haven't calculated our actual miles per taco, we think that utility cycling beats burning gas any day!