Over the years, we've been featured in magazines, newspapers, and on video.  Here are some links to stories.
The August/September 2016 issue of Texas Parks and Wildlife magazine story "Natural Mission" features a tour with SABT as part of a 3-day exploration of San Antonio.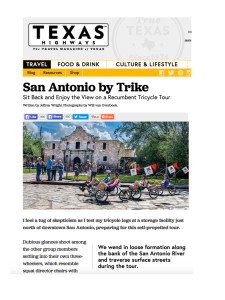 Texas Highways magazine's story about SABT appeared in the July 2014 issue.
The late San Antonio anchorman Bob Salter was developing a television series, 2 Wheelin' Texas at the time of his untimely death.  We were featured in Episode 2