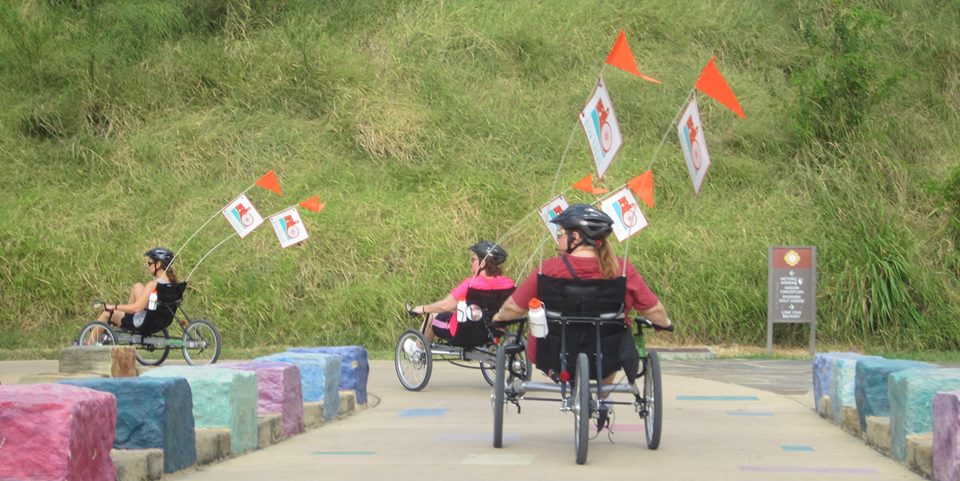 "…The recumbent seats were comfortable and relaxing, presenting a completely different vantage point than usual. Looking back, the experience was a bright spot on our trip through the state giving us the chance try something new while getting some much needed exercise."

– Angie and Allen
The Downtowner (2 hrs): This is our basic introduction to San Antonio, recommended if you just don't have time to take a more comprehensive tour. We'll ride by many beautiful downtown landmarks including the Alamo and Main Plaza, through the historic King William District, and down restaurant row. We discuss history, public art, and architecture and food! $75
Brackenridge Park (2 hrs): Slow paced and non-hilly, ideal for leisurely riders. This is our easiest tour with lightest traffic. We'll check out the St. Mary's strip entertainment area, then explore historic Brackenridge Park, and end up with a ride down the Museum Reach of the San Antonio River.  We discuss history, public art, and architecture and food! $75
Historic Downtowner (4 hrs): Note: This tour can vary based on local conditions and guests' interests. On this tour we start with a ramble down the Museum Reach of the San Antonio River then branch out to explore the central city in depth.  We then head downtown to look at San Antonio history, including one of the oldest residential buildings still standing in Texas. We make a brief stop at San Fernando Cathedral and a ride-by of the Alamo.  This ride may include visits to the King William Historic District, the Southtown/Blue Star area, La Villita, SATX's historic Eastside and the Hays St Bridge which features a great view of downtown.   $125 – includes refreshments, usually at Mad Hatter's Tea House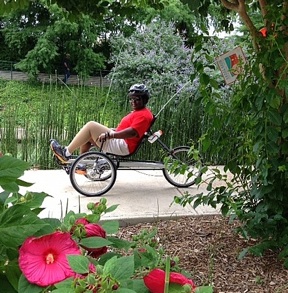 River and Missions (4 hrs):  We'll follow the lovely San Antonio River during most of our trip to the historic Mission San Jose. At the mission, Steve will take you on your own personal walking tour. We ride by two other missions (including the Alamo, which is one of SATX's five World Heritage Missions) and discuss the history and the development of the mission system. $125 – includes refreshments, usually at Fruteria la Mission
Park and Gardens (4 hrs):  First we'll ride to the historic Japanese Tea Garden. for a brief walking tour, then we'll take a leisurely cruise through the beautiful Brackenridge Park. Next we follow the Museum Reach of the River Walk downtown to see the sights there, including and a ride-by of San Fernando Cathedral and the Alamo. $125 – includes refreshments, usually at Mad Hatter's Tea House
Neighborhood and Mission (4 hrs):  For riders who would like to visit a mission, but prefer a shorter, less strenuous ride than our River and Missions tour.  We survey downtown, then follow the river to Mission Concepcion where we take a short walking tour.  On our return, we explore the King William historic district. $125 – includes refreshments, usually at Mad Hatter's Tea House
The Grand Tour (6 hrs):  An exploration of the best of San Antonio! This tour is customized to your interests and can include any or all of the above in greater detail as time allows . . . and more! Let us surprise you. May also include a visit to one or more well-known local artists' studios if available. $200 – includes lunch at one of Steve's favorite local restaurants.
Custom and Private Tours (duration varies):  Whether it's a team-building exercise, our famous Shopping Sherpa expedition or something completely different, tell us what you're interested in and we'll put together a custom tour just for you. Priced according to duration, staff, and facilities required

Note: Components of any tour, including snack and lunch venues, may change based on local construction, road conditions, weather conditions, venue availability, and any other reason. If you have any questions or want to see something specific ask us if it's possible!
Would I do it again? YES. Would I come back to your tour? YES. Would I recommend your tour to anyone? YES!

Thank you again for a great tour and the commemorative photo of the tour.

– Susan Friedman, Chicago, Illinois