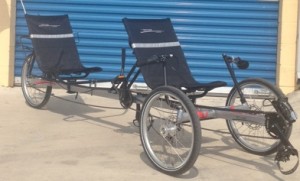 We believe that cycling gives you the best combination of speed, range, and flexibility to tour a city like San Antonio.  Traditional bicycles do the job, but after a while, they can become a pain in the rear end (and wrists, necks, and backs…)
Luckily, cycles have evolved …
What is a recumbent?
A recumbent bicycle (or tricycle) has all the components of a traditional bike, just rearranged a bit.
Why a recumbent?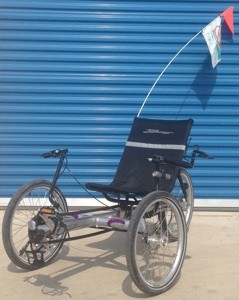 Instead of perching on a small hard seat, you sit comfortably with your back fully supported while you pedal and watch the world go by. At the end of a ride, you may be a bit tired, but your neck, wrists, back, and rear end will be pain-free.
Why a Recumbent Tricycle?
Comfort: Recumbent tricycles are among the most comfortable human-powered vehicles available. Riding a recumbent trike combines the comfort of a lawn chair with the fun of a go-kart, without a need to balance.
Stability: Three wheels reduce the chance of falls, and provide a great way for people with balance problems to get a bit of exercise while seeing the sights. Our tandem trikes allow people who might not be able to manage a traditional bike to participate in the fun as well!
We don't normally bike in cities, but these bikes were the perfect way to tour and feel perfectly safe. Because we felt relaxed and safe, we could take in the beautiful scenery of the River Walk and the interesting architecture of downtown. Steve was an incredibly informative guide; and Suzanne did a great job of ensuring that we would navigate around town easily and safely. We did the four hour tour with our two teenagers, and never felt tired. If you like being active on your vacation, you can't beat this.

Laura L, Richmond, VA
Meet our trikes
We use trikes manufactured by TerraTrike and KMX. Our Rover and Rover Tandem models offer higher seats for easy in and out and can accommodate riders up to 400 lbs. Our trikes feature the revolutionary Nuvinci transmission, that makes shifting a breeze.
In addition to tours, we also offer sales of TerraTrike models.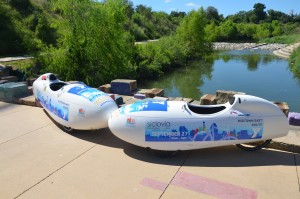 What if I don't want to ride a tricycle? Can I still tour with you?
Sure! We won't hold it against you … you can bring your own bike, or we can arrange a conventional bike for you.  Please note that unless you are a skilled urban cyclist, we don't recommend riding a conventional bike on tour.  Our trikes are much more forgiving for riders who are "seeing the sights" and not watching for irregularities in the roadway – a pavement crack that could send a 2-wheel bike to the ground is simply a small bump to a trike. See our Rates page for more information.