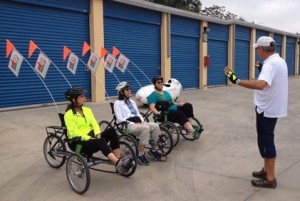 All tours are led by owner Steve Wood and include the use of a recumbent tricycle, helmet and radio intercom system. Guests receive a souvenir water bottle.
Entry fees to attractions (if applicable) are not included in the tour price except by special arrangement.
4 hour tours include a snack featuring local flavors. 6 hour tours include a meal at one of Steve's favorite restaurants.
How Strenuous are the Tours?
Depending on the tour, effort varies from leisurely to moderate intensity.  Tour distances range from 7 – 25 miles.  Terrain is mostly flat, but there are a number of moderate rolling hills encountered on tours that follow the river (in most cases, hills are tackled on the outbound route, with a flatter route on the return. If you're fit enough to walk at a moderate pace for 30 minutes at a time, you should be able to handle a tour – if in doubt, give us a call.
Rates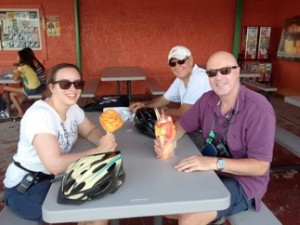 2 hour tour, per person:
With Trike: $75/Your Bike: $56.25 (25% off)
4 hour tour, per person:
With Trike: $125/Your Bike: $93.75 (25% off)
6 hour tour, per person:
With Trike: $200/Your Bike: $150 (25% off)
Group Size
We can accommodate a maximum of 8 riders per tour.  Minimum of 2 riders.  We are happy to add solo riders to an existing booked tour if space is available. Solo tours may be booked, subject to a 50% single supplement.
Scheduling
Tours are conducted on a by-reservation basis and will be confirmed by phone or email.  A major credit card may be required to hold your reservation, but no charge will be made to your card unless you wish to use the card to pay at the conclusion of your tour, or if you fail to follow our cancellation policy. Credit cards, cash, or checks are accepted for payment.
Please arrive 30 minutes prior to the scheduled tour start time to have your trikes fitted, get helmets and radios, and complete final paperwork.  Late arrivals will be assessed a $20/rider late fee – see notice under Cancellations and Late Arrivals below.
To schedule your tour, we will need the following information: Rider Names, Rider Heights, cell phone number and email address for group contact person.  Note: Minimum rider age/height: 12years/5 feet (our trikes are adult sized) Maximum rider weight: 400 lb. Note: if you are an adult close to the minimum height or maximum weight, please contact us prior to scheduling.

Great idea during a conference to counteract days of inactivity.

– Barbara N., Toronto, Ontario
Cancellations and Late Arrivals
Tours may be cancelled or rescheduled up to 48 hours before the scheduled start time without penalty.  If you fail to show up for a scheduled tour, or cancel without proper notice, you will be charged the full price of the schedule tour. There are no penalty charges for tours cancelled due to weather.
Please arrive 30 minutes prior to scheduled tour start time to have your trikes fitted, get helmets and radios, and complete final paperwork.
We ask that you to arrive early so we can start and finish on time. If you arrive later than 10 minutes before your scheduled tour start time we WILL run over. There will be an additional $20 per person surcharge in this case. If you are not late and we run over time for any other reason we will NOT apply the surcharge. If you are booking for a group please make sure everyone in your group has this information.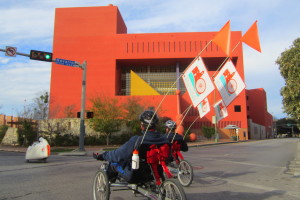 Weather
Depending on the season, Texas weather can vary from downright chilly to extremely hot, but regardless of the temperature, we're ready to ride.  Rain, however, is a different matter.  We do not tour in heavy rain or in thunder and lightning storms.  In cases of light or occasional rain, we will consult by phone with our guests before making a final decision on whether to cancel or reschedule a tour.
Children
Our trikes are designed for adults and cannot be adapted for children under 12 (primarily due to size/leg length – minimum height is 5').  Younger children may be accepted on selected tours if riding their own bike.  Please contact us to discuss your requirements. Participants under 18 must be accompanied by a parent or adult guardian.