"That trike was so comfortable, I want one!"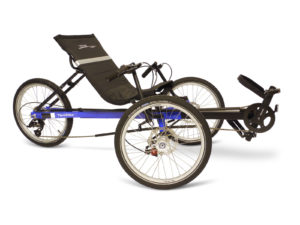 Many of our guests come away from a tour with a whole new perspective on cycling.  They find
that a recumbent tricycle offers a comfortable, stable way to get a great workout.  We are proud to represent TerraTrike, the largest recumbent trike manufacturer in the U.S.  With models ranging from the entry-level Rover to the performance-oriented Sportster, TerraTrike offers a trike for riders of all abilities.
The Rambler features a strong (300 lb rider weight) frame with a number of drive train options, including the innovative Nuvinci drive train.  The Nuvinci allows shifting through the entire range of the transmission with a simple twist of the wrist. The Rambler All Terrain features a drive train optimized for off-road riding, wide tires and higher ground clearance.  For riders who would like a bit of assistance, the Rambler EVO (Electric Vehicle Option) has an integrated electric assist motor to give a boost when climbing hills or cruising.
The Traveler offers drive train options similar to the Rambler, but in a folding format.  Three hinges built into the frame allow the trike to be folded small enough to fit into the trunk of a small car.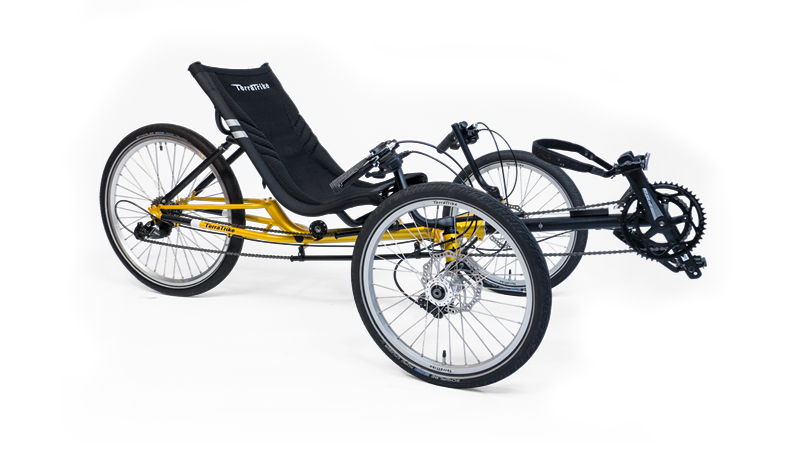 Looking for a touring trike?  Check out the new Gran Tourismo.  Engineered from the ground up to be efficient, beautiful and comfortable, it handles like a sports car but rides like a luxury sedan.
The Sportster is TerraTrike's performance model. Every detail of this trike has been finely calibrated so that the Sportster accelerates effortlessly, maintains high speeds with ease, and powers through tight corners. The Sportster capitalizes on its ultra lightweight aluminum frame and will allow you to move faster under your own power than you ever thought possible.
TerraTrike tandems are a safe and easy way to enjoy riding with a loved one or friend. Each is designed to meet the needs of different riding styles, and they do so brilliantly.
The Rover Tandem is a life changer for many couples who want to get out and ride together, as well as parents or relatives of people with adaptive needs. Utilizing the frame design of the Rover trike as a platform, the Rover Tandem Attachment can be used to transform a Rover i8 into a tandem and back again.
For the ultimate in partnered riding, you cannot beat the performance and quality of the Tandem Pro. The high-performance construction and components of this tandem trike make full use of the power of two riders. The Tandem Pro is sure to turn heads as you enjoy one of the most fun ways to spend time with a partner outdoors. The Tandem Pro is proudly made in the United States of America.
For riders who need a bit of extra support, we offer a range of adaptive devices that open cycling to riders with physical challenges.  Whether you need grab bars, a head rest, or supportive pedals, we can equip your trike to meet your needs.  If your physician prescribes a trike for rehabilitation purposes, your purchase may be exempt from most sales taxes.  TerraTrike also offers a 10% discount on all trikes purchased by military veterans.